The Chilliwack Players Guild will be celebrating the 400th anniversary of the first printing of William Shakespeare's First Folio with its upcoming production.
The theatre troupe presents The Book of Will April 20 to 30 at the Chilliwack Cultural Centre. It's a true story about the four-year journey of tracking down Shakespeare's work after his death to publish the plays in one book.
"In its entirety, it covers everything that's in Shakespeare. There's love, there's death, there's anger, there's loss… there's deception… there is talk of poisoning," said director Clint Hames. "It's like a love letter to Shakespeare."
He and fellow guild member Graham Archer went to see the play in Oregon in 2018.
"It blew me away," Hames said.
The Book of Will was published by Lauren Gunderson five years ago. It takes place over the course of four years in the 17th century, but uses all modern language except for when the actors are quoting Shakespeare.
Hames explained some of the backstory and history. People were pirating Shakespeare's work and he and the acting company he was part of, called The King's Men, were very concerned.
Those trying to pirate his work would send young boys into the theatre who could write and they would try to "furiously scribble down" what they were seeing, Hames said.
"Then they would publish these plays and… put them on and they were horrible recreations of Shakespeare."
Shakespeare combatted that by only handing his actors their parts.
"To avoid piracy of the plays, there was generally only one copy of the script, the prompt book, kept backstage. Actors only ever received their own parts, not the whole play," Hames said.
Other members of The King's Men included head actor Richard Burbage, plus John Heminges and Henry Condell.
In 1613, the Globe theatre in London, where most of William Shakespeare's plays debuted, was destroyed by fire. All of his scripts burned with it.
The Book of Will starts off in 1619, three years after Shakespeare's death. Burbage, who likely knew Shakespeare's plays better than any other, had memorized many of them. When Burbage died in 1619, his friends Heminges and Condell suddenly realized no one knew the plays like Burbage did.
And so began the hunt for copies of Shakespeare's plays.
"They scoured the city of London and other places to try to find enough of these plays. So they bought pirated plays, they found scripts in people's bathrooms and they finally gathered all 36 plays and were able to get them published," Hames said.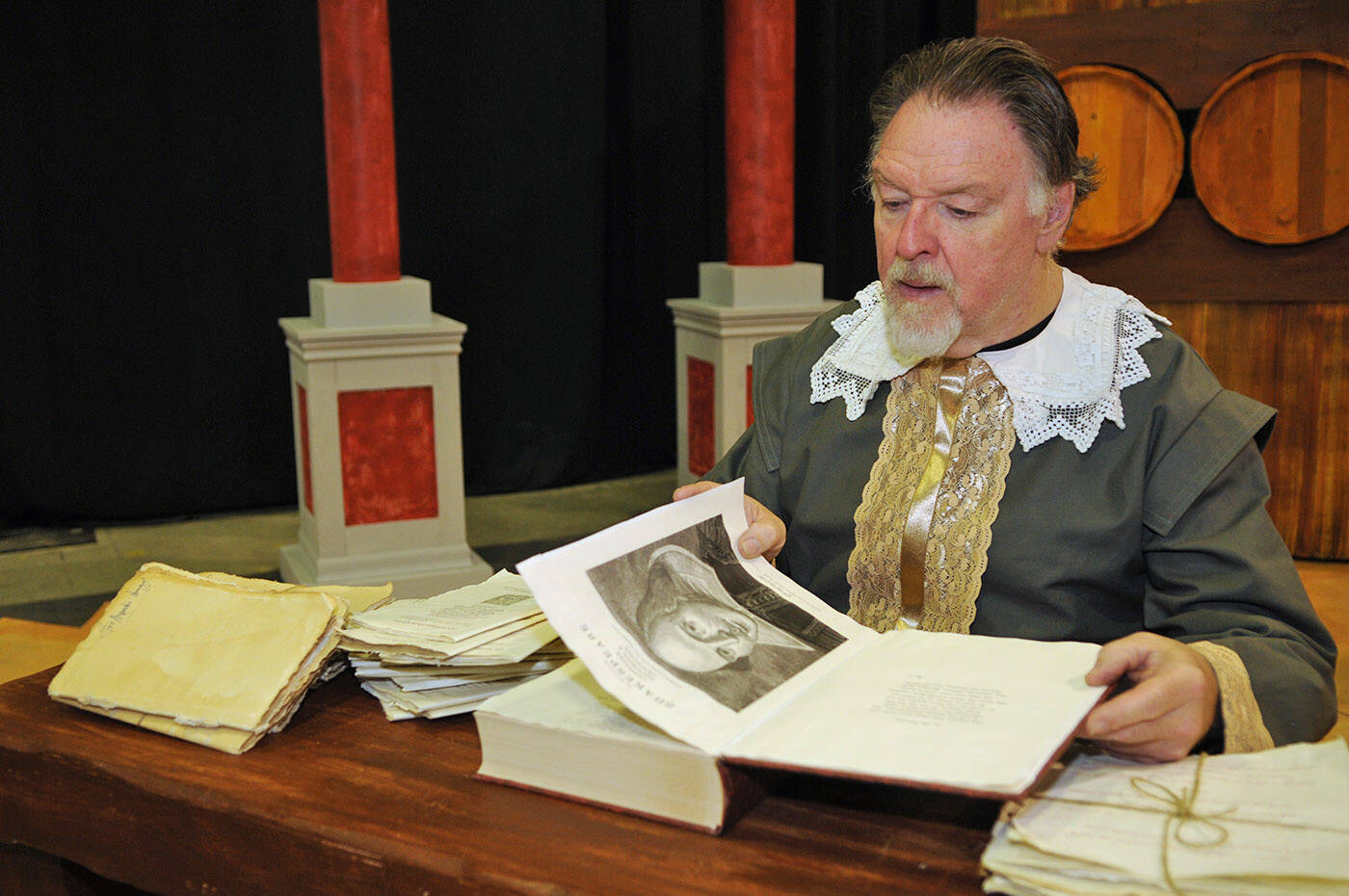 The Book of Will follows the four-year journey of Heminges and Condell as they hunt for Shakespeare's work between the years 1619, when Burbage died, and 1623 when the First Folio was published, about seven years after Shakespeare's death.
Out of the 750 copies of the First Folio that were printed, 235 are known to remain in the world, one of which is in the library at the University of British Columbia.
In the Chilliwack Players Guild production, the First Folio is referred to as The Book of Will.
The play is a huge production. There are 17 cast members and about 50 others in the crew. The team has built pretty much everything by hand from costumes, to props, to the set.
Rick Funk built a 17th-century style Gutenberg printing press. Graham Archer (who also plays the lead role), along with three retired men who love to tinker, built the entire set.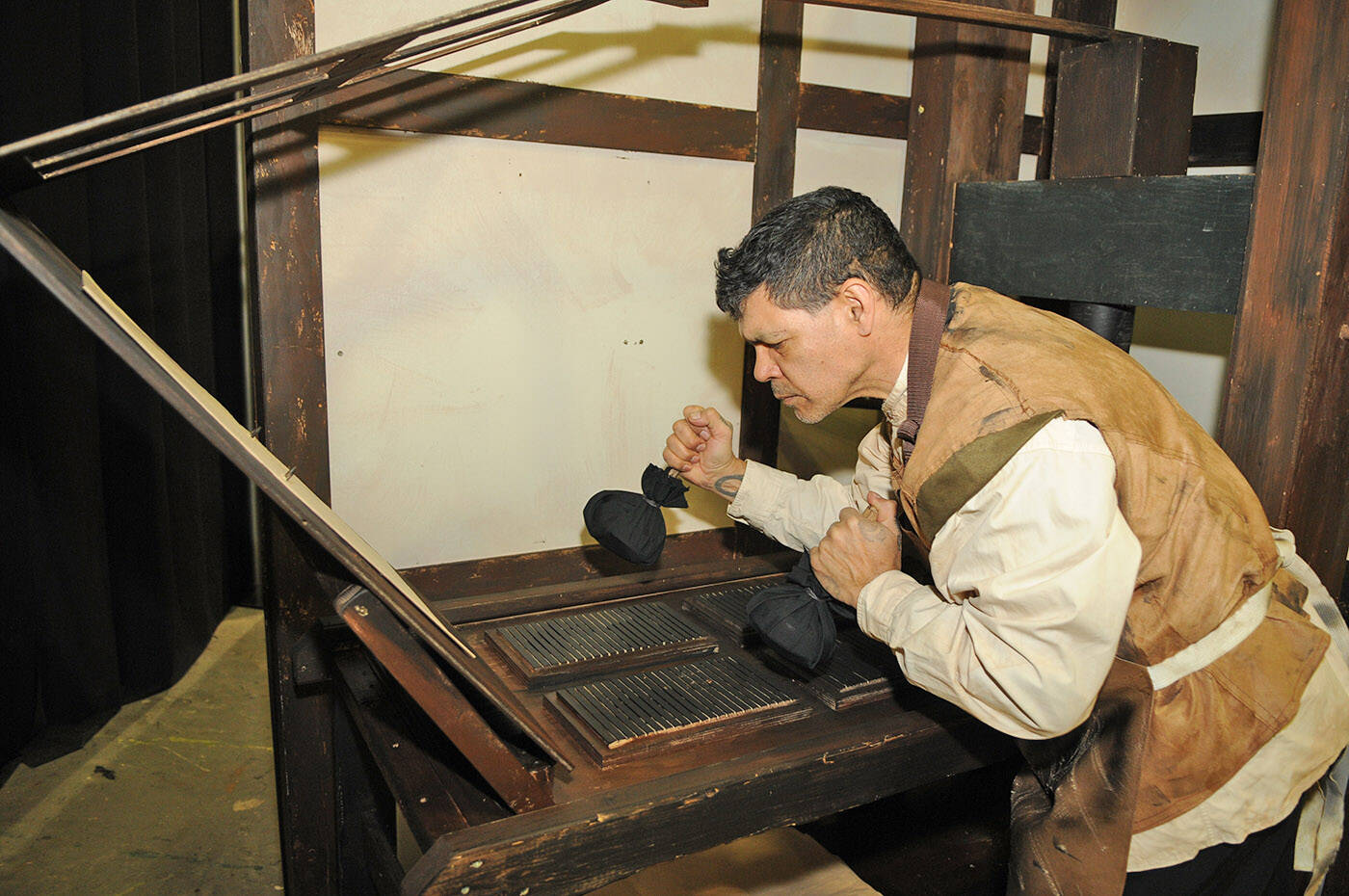 Maggie Saunders designed and sewed all 26 costumes with help from a team of about eight people. About 90 per cent of the costumes were made from scratch and it was her first costume job.
"I sew, but not to this level," she said.
Judy Hill took on the role of props – Hames figured she made hundreds of them. Since the play is about printing a book, there's a lot of paper needed for props.
"Every single piece of paper has been treated… (using) mostly my leftover coffee in the morning," Hill said.
Text was silkscreened on paper that make up the book's pages, and there's a scene where the audience will see countless sheets of paper hung across the stage.
Hill also transformed two modern pitchers (one ceramic, one enamelled metal) to make them look like pewter jugs. Plus, there are a couple of personal items in the show.
"Two of my dad's beer mugs are out there," Hill said.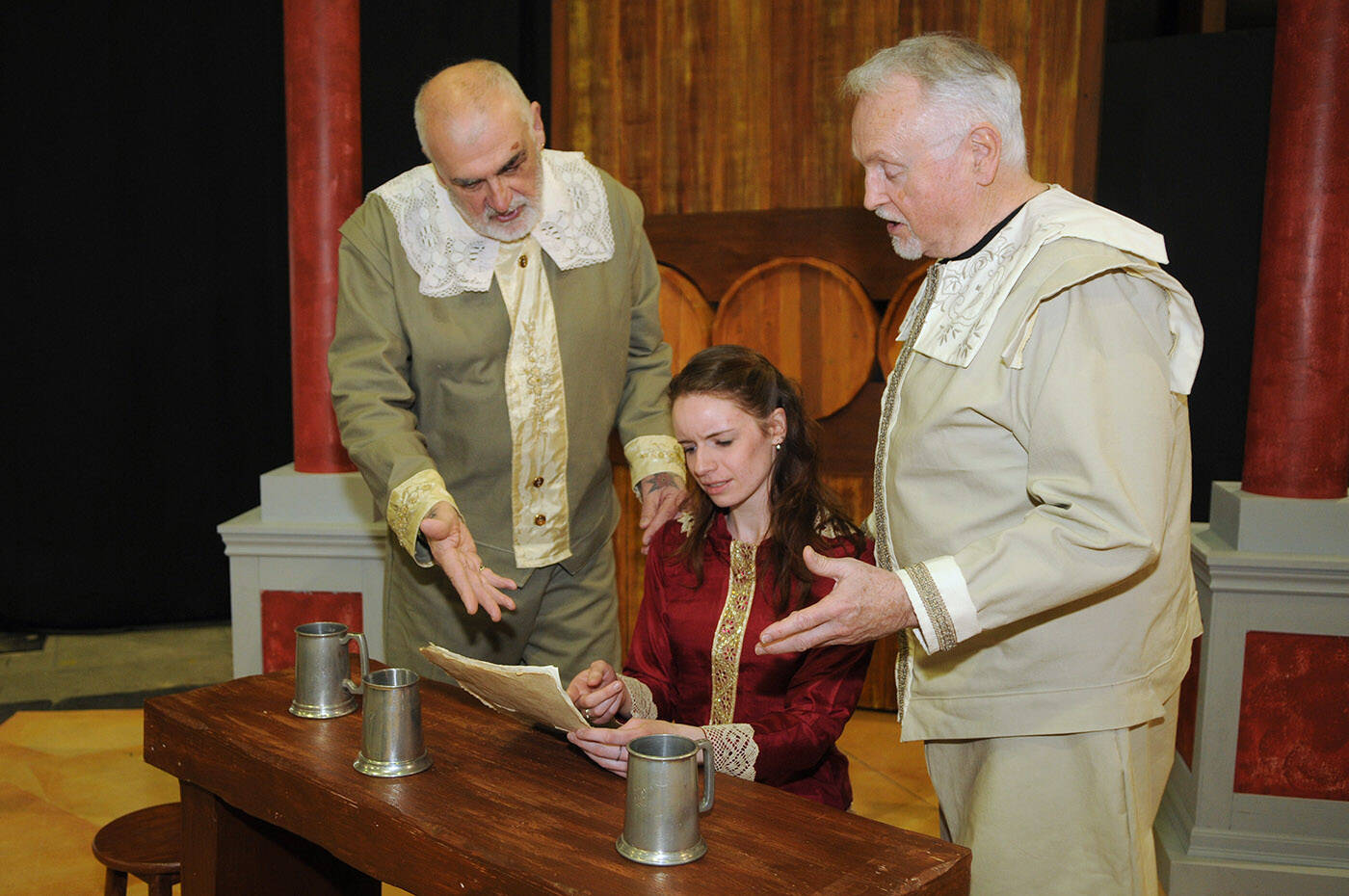 Hames admits it has been challenging to direct the production.
"It's about the most difficult thing I've ever directed."
When they got the rights to produce the play, they basically received a script, and that's about it. There's no indication of what the set should look like, where people are supposed to stand onstage, or how a love story emerges during the play.
"You build it. It's your interpretation as a director of what those words mean," Hames said, adding that there's a lot of humour in the play.
Other members of the creative team include stage manager Ann-Marie Blessin, lighting by Hayden Simpson and sound by Debra Archer. Laura Hames, Clint's wife, is the producer.
"It's a warm and witty play… it's all about love," Laura said. "It's really heartwarming."
The Book of Will by The Chilliwack Players Guild runs Thursday, April 20 to Sunday, April 30 at the Chilliwack Cultural Centre. Show times are: April 20, 21, 22, 27, 28 and 29 at 7:30 p.m.; matinees are April 23 and 30 at 2 p.m.
Tickets are $25 for adults and $20 for seniors/students, and can be purchased at the Centre Box Office, online at www.chilliwackculturalcentre.ca, or by calling 604-391-SHOW(7469).
For more, go to www.playersguild.ca.
---
Do you have something else we should report on?
Email: jenna.hauck@theprogress.com
Twitter: @PhotoJennalism