Imagine sitting on top of a horse in full medieval armour, barely being able to move, charging head-on towards your opponent, and getting slammed as a wooden lance hits your body.
This is the very rare sport of jousting and it's what Josh Tobey of Chilliwack has been doing for the past 10 years.
He's part of a full-contact jousting troupe called Knights of Valour which puts on Renaissance festivals and brings jousting shows to places across North America.
Tobey calls it an "extreme" sport.
"It's like driving into a brick wall every single time."
It takes about 1,800 pounds of pressure for the 11-foot long wooden lances to break.
"That's basically the force you're getting hit with every time you snap it, and that's right near your chest, over your heart," he said. "I've been told by a lot of EMS they're surprised that none of us have had a heart attack or something, because you're basically just re-jumping your heart every time you get hit."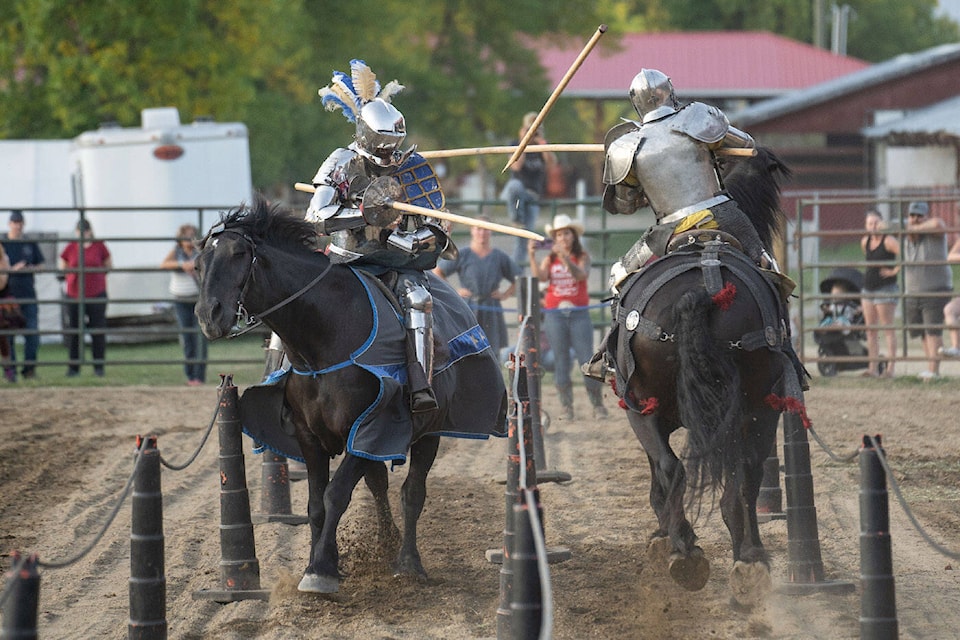 Do people think he's crazy?
"Oh yeah, all the time," he said.
Once his 120 pounds of armour is on, Tobey can barely move and he can hardly see through the quarter-of-an-inch eye slits cut into his helmet. He's like a statue. He drops the reins and has no control of horse 'Superman' as he holds on with only his legs.
Superman gallops about 30 kilometres an hour towards the other knight coming at the same speed down a 220-foot long run called a 'list'.
"All you can see is your opponent. You watch that lance coming to you every single time."
And then it hits him.
His opponent's wooden lance rams into the metal target that sits over his heart. His body bends backwards like a scene from The Matrix as wooden lance pieces fly through the air.
Tobey, still atop Superman, pulls himself back up.
What people see with Knights of Valour is real, not staged.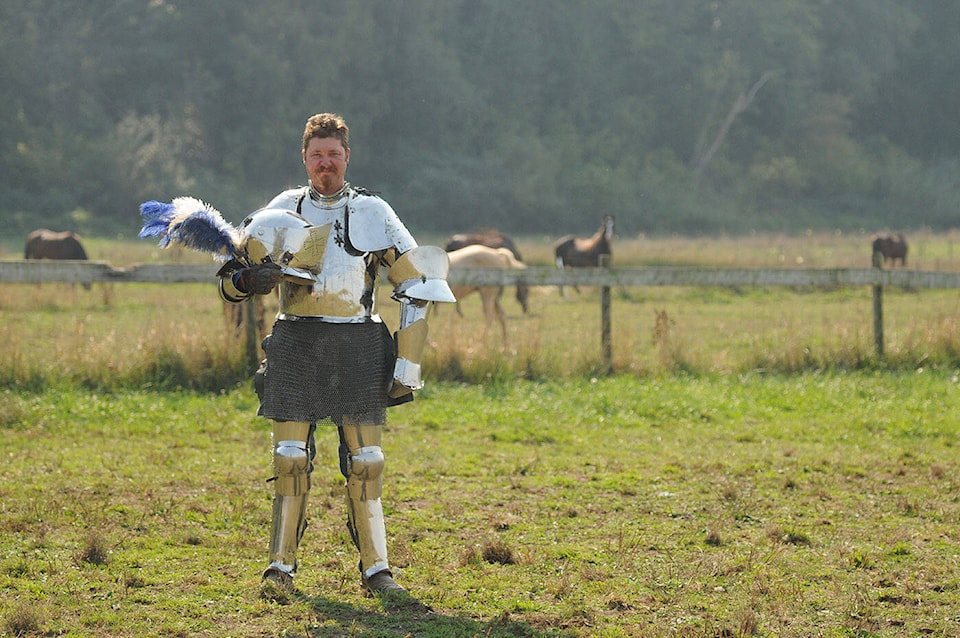 The knights get five passes per match to try and hit the target – called a 'grand guard' which is about the size of a dinner plate – or knock the opponent off his horse. Points are only awarded if the lance hits the grand guard. It's three points if the lance hits the target and doesn't break, five points if the lance breaks when it hits the target, and 10 points if the knight knocks the opponent off his horse.
Tobey said it's like getting hit with a sledgehammer each time.
So, why does he do it?
"I like the thrill of it, the joy, the fame you get at the shows, the spotlight, and the travelling that comes with it. Also it's really cool showing people that a 2,000-year-old sport is still alive today."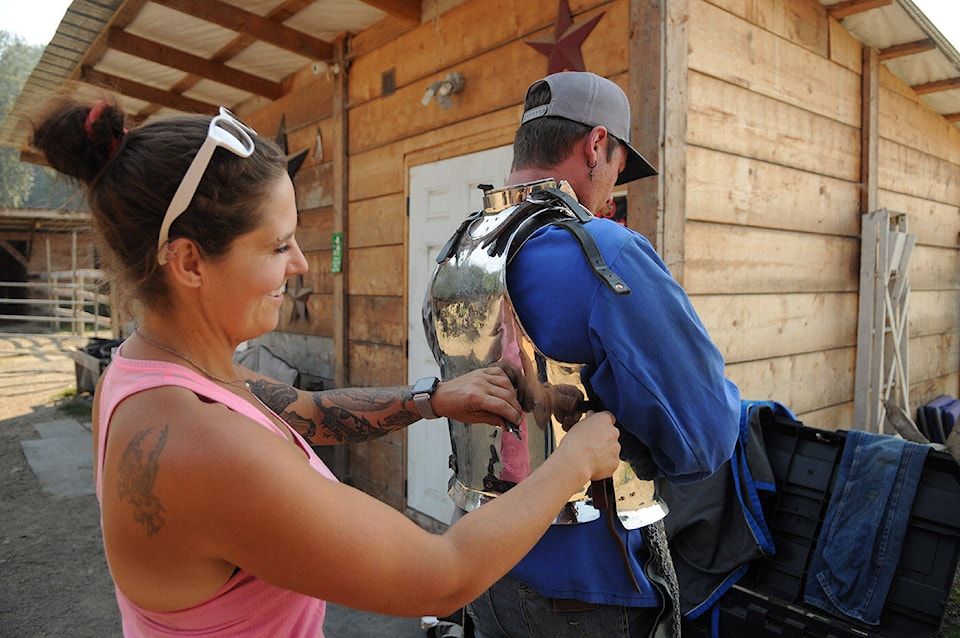 Jousting has been part of his life for 24 of his 28 years. It started when his dad, Tim, was introduced to the sport in Ontario. He fell in love with it, and soon enough, Josh and his brother Aaron did as well.
He remembers as a kid, he and Aaron would make their own children's suits of armour out of thin tin and his mom's old cookie sheets, and use shorter lances.
"We would run at each other on foot… with half a lance, and we'd still have the little target on our armour."
Today, he admits he doesn't practice jousting.
Started by Shane Adams and based in Alabama, there are about 10-12 members with Knights of Valour who live mostly in Ontario, Alberta and Colorado. They travel as a group with the horses throughout North America putting on jousting shows and Renaissance fairs.
When he's not jousting, he's pouring concrete for his own business called Tobey's Concrete, although he does get paid to joust. This year alone, he went to approximately 35 shows, 24 of which were over the course of 12 days at the PNE.
The horses they use are Percherons because they're bigger and can handle when the knight gets hit. Reins are not held onto while jousting because if they're pulled, it could potentially rip the horse's mouth.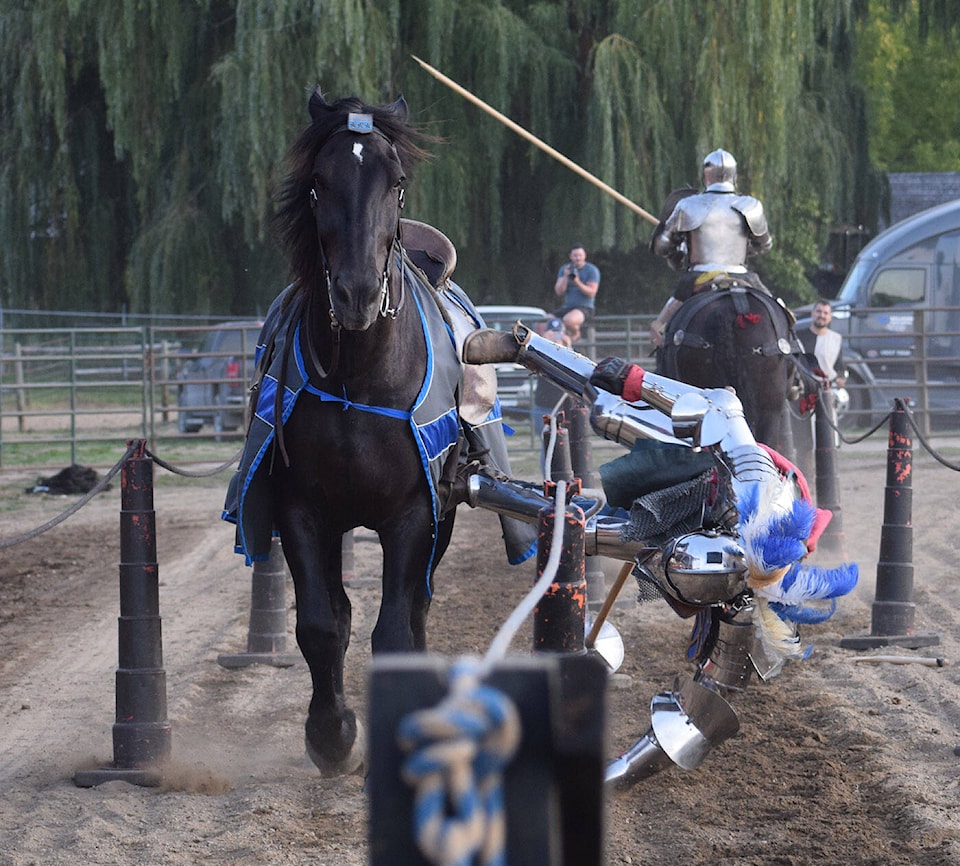 Tobey has suffered several injuries including multiple concussions, a broken collar bone, two broken ribs, a dislocated shoulder and a torn rotator cuff. His dad retired after breaking his jaw, but Tobey said he doesn't think any injury could retire him from it.
Unlike football or soccer, there's no defence in jousting.
"It's a mental game to sit there and put yourself in an accident every single time."
At first, he was not good at putting the fear and danger out of his mind. His dad would coach him and his mom would calm him down.
Now he can do it on his own.
To prepare himself for a match, he'll take a nap while sitting in full armour on top of his horse.
"Now I think I'm just not even doing it. I picture I'm on a beach or I'm doing something else. I don't think. I shut my brain off and I let my body do it."
These days, Tobey helps others get in the zone.
"I'll tell guys, 'Stop thinking.' And then I always say, 'Have fun.' Because if you're not having fun, why are you doing it?"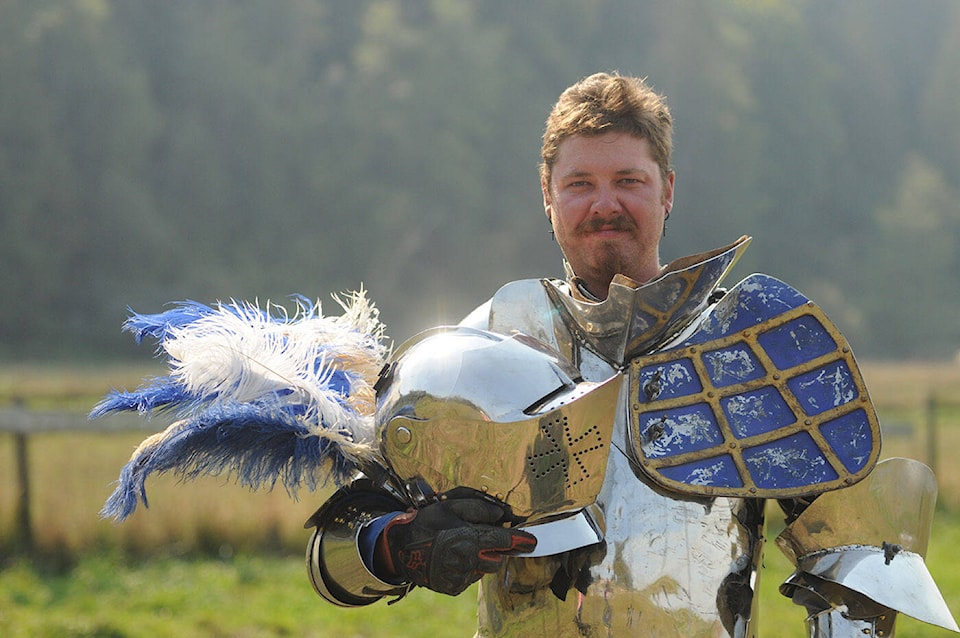 The people he jousts with are family. He said Adams is like a father to him, as was another knight he knew who died in a car crash.
"It shook me pretty hard," he recalled.
Tobey was only 16 at the time, and he told the knight's wife at the funeral that he was going to start jousting in honour of her husband. Tobey asked her if he could wear her husband's jousting colours. She loved the idea and now he wears blue, silver and gold feathers in his helmet and three gold stars.
And although he was practically born into jousting, he and his brother were never forced into competing.
"My dad never peer pressured us into it… I always had the thrill of wanting to do it and I finally did and haven't stopped."