Notice is hereby given that the following properties shall be offered for sale by public auction at 10:00 a.m. Monday, September 25, 2023 in the Council Chambers of the Chilliwack Municipal Hall, 8550 Young Road, Chilliwack, B.C. unless delinquent taxes plus interest are sooner paid. Payments must be paid in cash or certified cheque. Properties sold at Tax Sale may be redeemed by the owner up to 4:30 pm September 25, 2024, in which case the Tax Sale purchased price, plus interest at the rate prescribed under Section 11(3) of the Taxation (Rural Area) Act per annum, will be refunded to the Tax Sale Purchaser.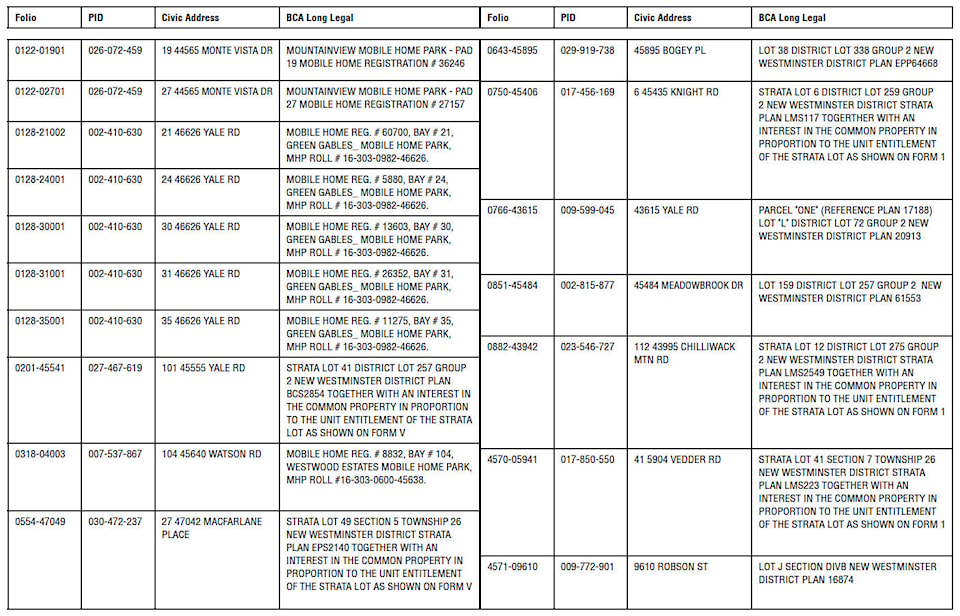 NOTICE TO PROSPECTIVE PURCHASERS
Purchasers of tax sale properties should be aware that they will NOT have the right to receive title or possession until after one year following the date of the tax sale. During this period, the registered owner of the property has the right to redeem the property from the tax sale thus cancelling the sale. Property transfers resulting from Municipal Tax Sale are subject to the Property Transfer Tax based on fair market value at time of title transfer. For further information, please contact the Tax Department at 604-792-9498. Municipal Collector E&O.E.