NOTICE OF SQWÁ COMMUNITY RATIFICATION VOTE
TAKE NOTICE that a Ratification Vote will be held in accordance with the Sqwá First Nation Community Ratification Process on November 16 & 17, 2023, in order to determine if Eligible Voters approve the Sqwá Land Code and the Individual Agreement.
The following question will be asked of the Eligible Voters of Sqwá First Nation by ballot:
"Do you approve the Sqwá Land Code, dated October 3, 2023 for reference, and the Individual Agreement between Sqwá First Nation and His Majesty the King in right of Canada?"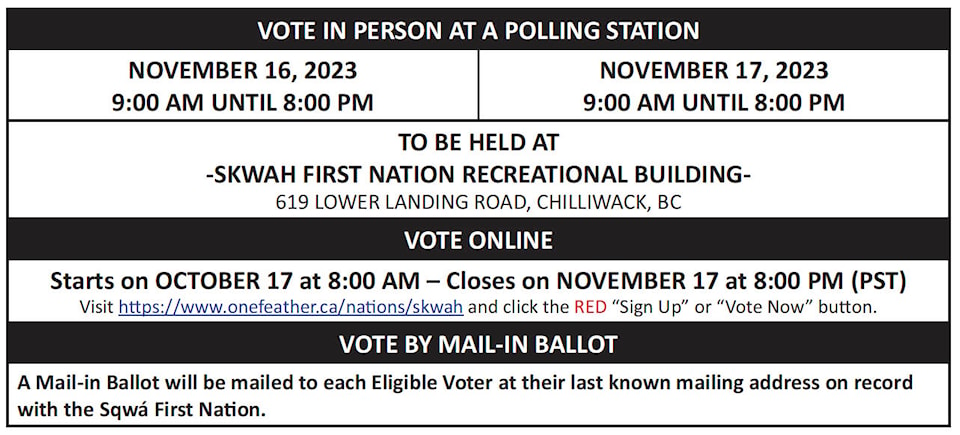 AND FURTHER TAKE NOTICE that all members of Sqwá First Nation who are 18 years of age or older as of the last day of the Ratification Vote are eligible to vote. Voter information packages will be sent to all Eligible Voters whose mailing address is on record with the Sqwá First Nation. Further information is also available at https://www.onefeather.ca/nations/skwah or by request to the Ratification Officer, contact details below.
Please Note: Any Eligible Voter may vote in person at a polling station or by Mail-in Ballot or by Online Voting. If an Eligible Voter has not received an information package by October 24, please contact OneFeather so that the necessary documents can be provided to you.
Dated at Victoria, British Columbia, this 5th day of October 2023.
Jordan Loose, Ratification Officer
For more information, please contact the Ratification Officer at OneFeather:
Email: voterhelp@onefeather.ca
Phone: 250-384-8200 Toll Free: 1-855-923-3006
Phone support is available weekdays from 9:30 am to 4:30 pm Pacific Time
209-852 Fort Street, Victoria, B.C., V8W 1H8