While sitting in the sunshine and gazing at the beauty and serenity of a West Kootenay lake last summer, April Huggett's mind was anything but peaceful.
The 34-year-old Castlegar mother of three could not stop thinking about the noise and chaos happening 8,000 kilometres away in Ukraine.
Huggett says as a consumer of TikTok and social media she watched as "timelines went from nice fluffy things and people doing dance videos" to seeing people her age thrown into war.
"I couldn't get over it. I couldn't think about anything else."
The contrast between her life and the lives of Ukrainians plunged into months of war was just too much. So Huggett decided she was going to do something about it.
The plan Huggett hatched was not just about gathering money and supplies to send to the war-torn country. It was about getting boots on the ground to help those in need — specifically, her boots.
"I may not be a doctor and I am not a soldier, but what skills do you really need to give out food?" said Huggett.
"I saw what was happening, I saw the genocide. It was the first time something like this was really pushed in my face — civilians being murdered, people starving, children alone, the most horrible things happening."
Huggett shared her vision with others and gathered a board to create Planet of People (PoP), a non-profit that is now registered in both Canada and Ukraine.
Fundraising started with small-scale grassroots events like garage sales, bottle drives and a booth at a local mall.
And even though the B.C. woman had never left North America, she bought a ticket to Ukraine.
By November, boxes of supplies gathered locally were ready to be shipped in advance of Huggett's arrival and the non-profit had $6,000 in the bank to purchase more goods in Ukraine.
When Huggett arrived in Ukraine on Dec. 3, 2022, she planned to be home in time for Christmas. However, it didn't take long for her to realize that she had been a bit naive about how long it would take to accomplish her goals and the trip was extended to two months.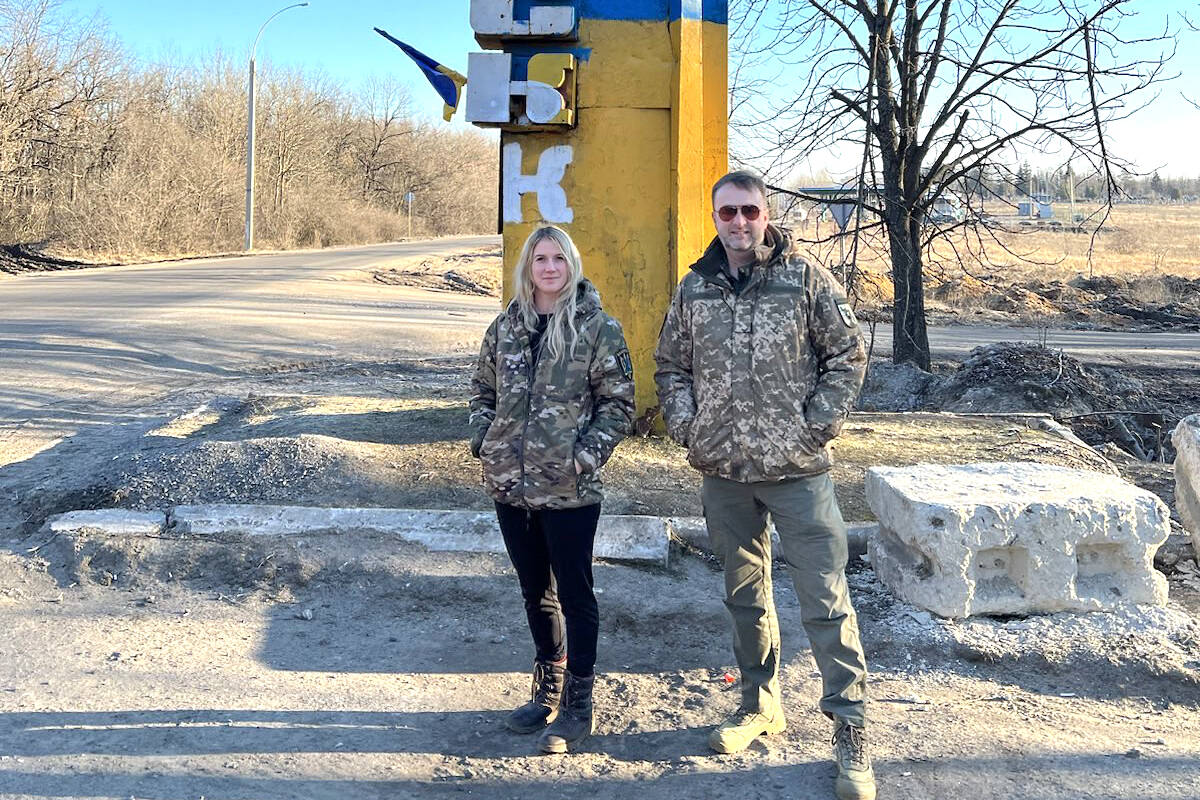 Huggett began making connections, meeting people, securing a place to stay and learning how to get things and travel as safely as possible.
Travelling safety was extremely important, because Hugget's goals included supplying people on the front lines of the conflict.
She began to spend her days purchasing food, medicines, clothing and other necessities. Her nights were spent hauling the goods up to her eighth-floor Kharkiv apartment and sorting them into packages to be delivered to civilians and soldiers when she made her rounds.
"Then, I just load up my car and head to the front lines," said Huggett, who adds she tries to be in and out of the conflict zones in three hours or less.
On those drives, she visits soldiers, civilians and medical personnel.
Off I go.

See you all on the other side.

Air raid has just started in #Kharkiv, rockets are in the sky.

I am not afraid, life is about how we live, not how we die and I know I have made my mark on the world...

Because of all of you. 🫂💙💛

Thank you.

PS I'll be fine 😉 pic.twitter.com/1oeRDBY3oj

— Defacto (@DefactoHumanity) January 26, 2023
Soldier packs contain things like energy drinks, ear plugs, winter gear, socks, hand warmers and chocolate bars.
Civilian packs start with basic food ingredients. But then they are supplemented with other items such as clothing, diapers, small toys, medicines. If specific needs are identified, PoP will also purchase things like winter coats or boots.
Huggett has also become a conduit for getting medicine and medical supplies to front-line doctors and medics. She has delivered sutures, scalpels and even morphine.
"I am trying to fill the gaps."
She tries to buy as many things as possible right in Ukraine so she can further support the country by keeping the economy rolling.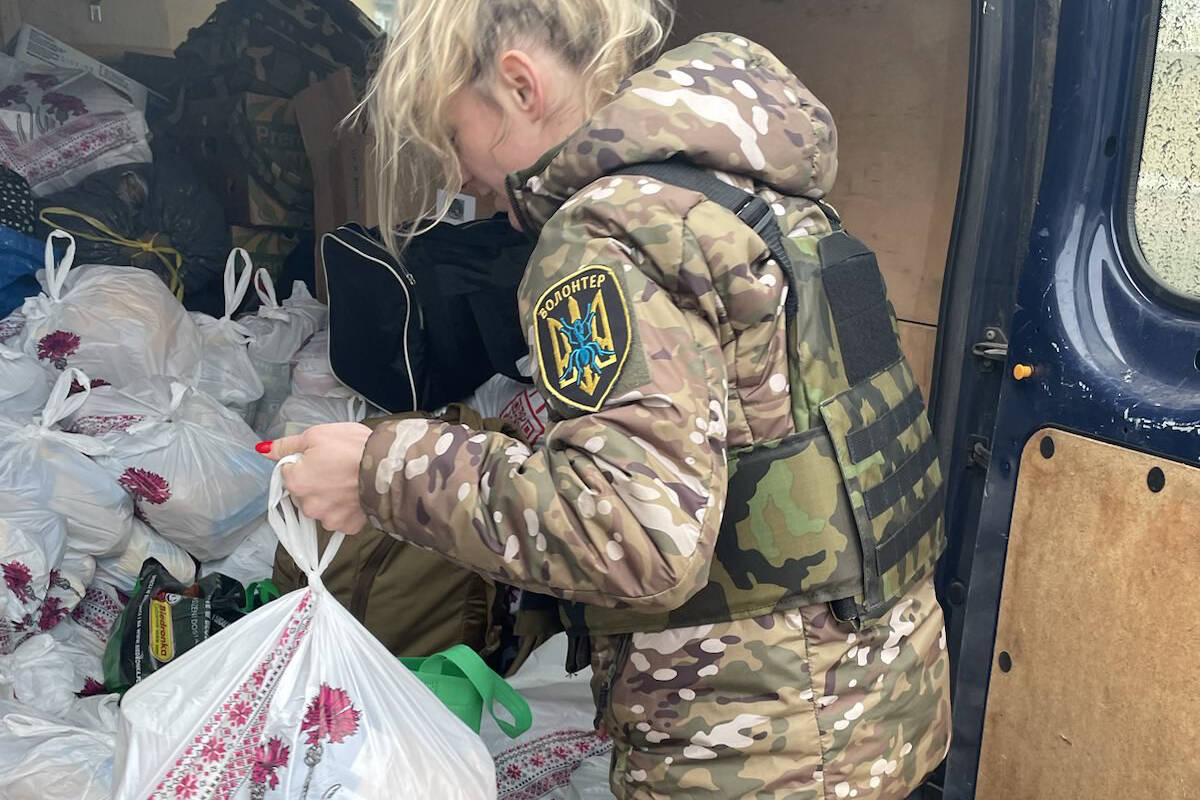 As the days wore on and money kept coming in for PoP, Huggett kept gathering and delivering more supplies. The non-profit has now funnelled about $40,000 to Ukrainians in need. Individual donors and other groups have also begun to send boxes of supplies directly to PoP in Ukraine for distribution. This has come in the form of everything from raincoats to combat medical supplies.
In reflection, Huggett realizes that she didn't really think through the "craziness" of travelling to a war zone all by herself. She just felt that there was a job that needed done, and she was going to do it.
The trip has forever changed Huggett. She now hopes that she can spend the rest of her life doing humanitarian work.
Huggett recalls one particular day when explosions were going off in her area.
"I thought, 'I'm glad I am here, rather than helplessly watching this on T.V.'"
Being on the ground gives a person a different perspective. To those watching from afar, the advancing army is seen in kilometres or land lost.
"Every kilometre has a house with somebody there, every little village has thousands of people," says Huggett.
On Jan. 30, Huggett returned to the safety of Castlegar, but just for a few weeks. On Feb. 19, she once again boarded a plane and headed back to Ukraine, this time for six weeks.
This trip, she has even bigger plans. Building on the framework she has already established, she hopes to increase the volume of deliveries and will be looking to access a larger vehicle.
The wheels are already in motion to fill some specific medical requests — $1,000 worth of life-saving cricothyrotomy kits (used to establish an airway in a patient who can not breath) and tourniquets.
PoP is also helping to fundraise for a more grassroots project — procuring a tractor so a group of 10 farmers can keep growing much-needed food. They have set up the "Save the Farmers in Rural Ukraine" GoFundMe page with a goal of raising $30,000. As of press time, just over $15,000 had been raised.
"Last year, I was so desperate. Now, I am so grateful that I have had the opportunity to do something," said Huggett.
"I feel like it makes a difference — even if it is just bringing smiles to soldiers."
When asked if Ukraine can win the war, Huggett says, "I hope so, I certainly hope so."
You can follow Hugget's journey on Twitter @DefactoHumanity and learn more about Planet of People at planetofpeople.ca.
---

betsy.kline@castlegarnews.com
Like us on Facebook and follow us on Twitter