TELUS has embarked on a program to refresh their fleet vehicle branding in collaboration with local Indigenous artists Fred Jackson and Xwei';ya (Deanna-Marie Point).
As part of its commitment to reconciliation, TELUS is exploring creative collaborations with Indigenous artists by amplifying their voices and talents through art.
In the Lower Mainland, TELUS has partnered with First Nations artists Fred Jackson and Xwei';ya (Deanna-Marie Point) to showcase their talents and tell their stories through customized design wraps on TELUS' fleet vehicles in Chilliwack and Vancouver.
We spoke with Fred and Deanna to learn more about the inspiration behind their artwork.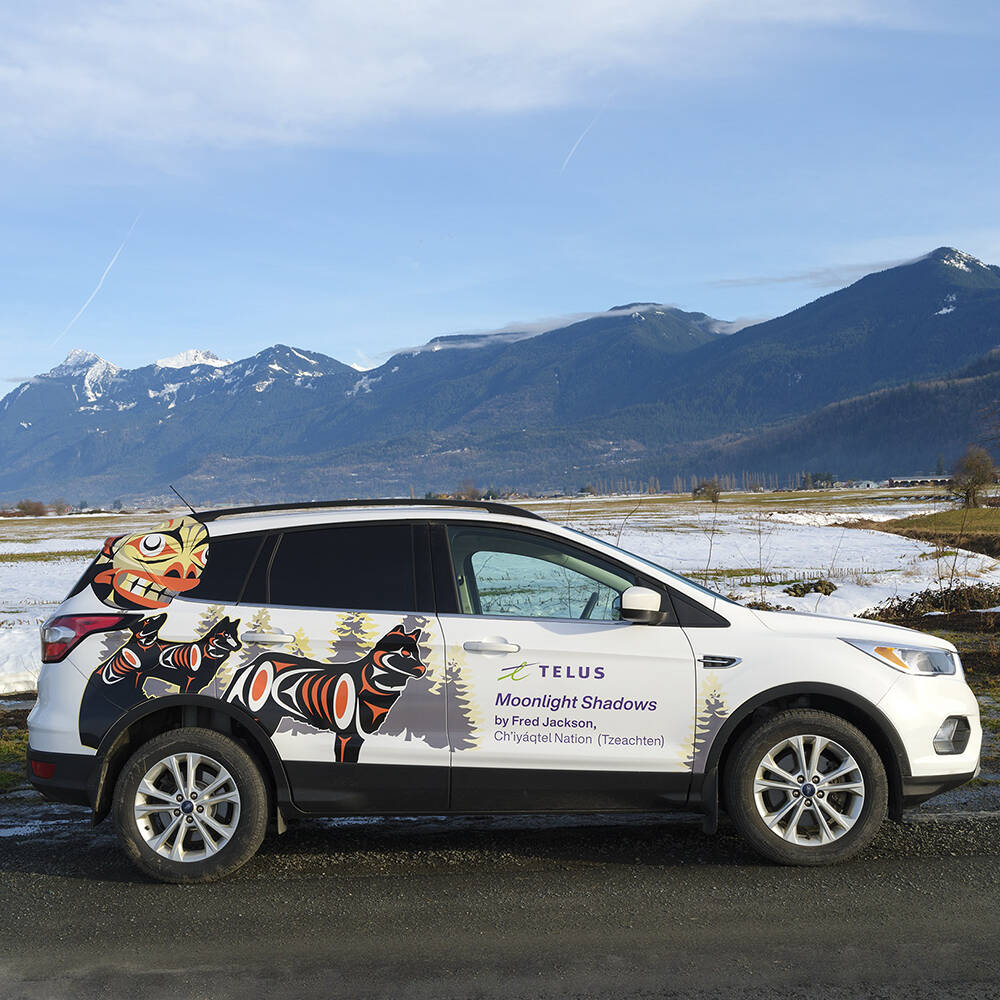 From a young age, Fred Jackson's artistic pursuits were influenced by his upbringing within the Tzeachten First Nation. Influenced by elder artists and inspired by his natural surroundings, his work is born out of nature and wildlife, reflections of the past, and of learning and relearning traditions.
In his artwork today, Fred specializes in the mediums of graphic arts, wall murals, and paintings. He recently completed his first buddy bench project for an elementary school in support of an anti-bullying initiative. Committed to passing on his passion for his craft, Fred also teaches art to students in grade school to college.
Moonlight Shadows honours wolves and what they represent when it comes to family and community.
"The wolf in the foreground is the alpha, and he is guiding the younger wolves behind him on the right path," explains Fred.
Strong, noble, intelligent, and loyal, these pack animals are guided by connection, using their senses and their instincts to move as one. Alpha and omega wolves are partners for life — with strong bonds that connect them generationally.
"Wolves always stick together as a group and help each other," says Fred. "They can teach people a few things about how to be and how to survive this walk of life together."
Moonlight Shadows is showcased on three vehicles that serve the Chilliwack area.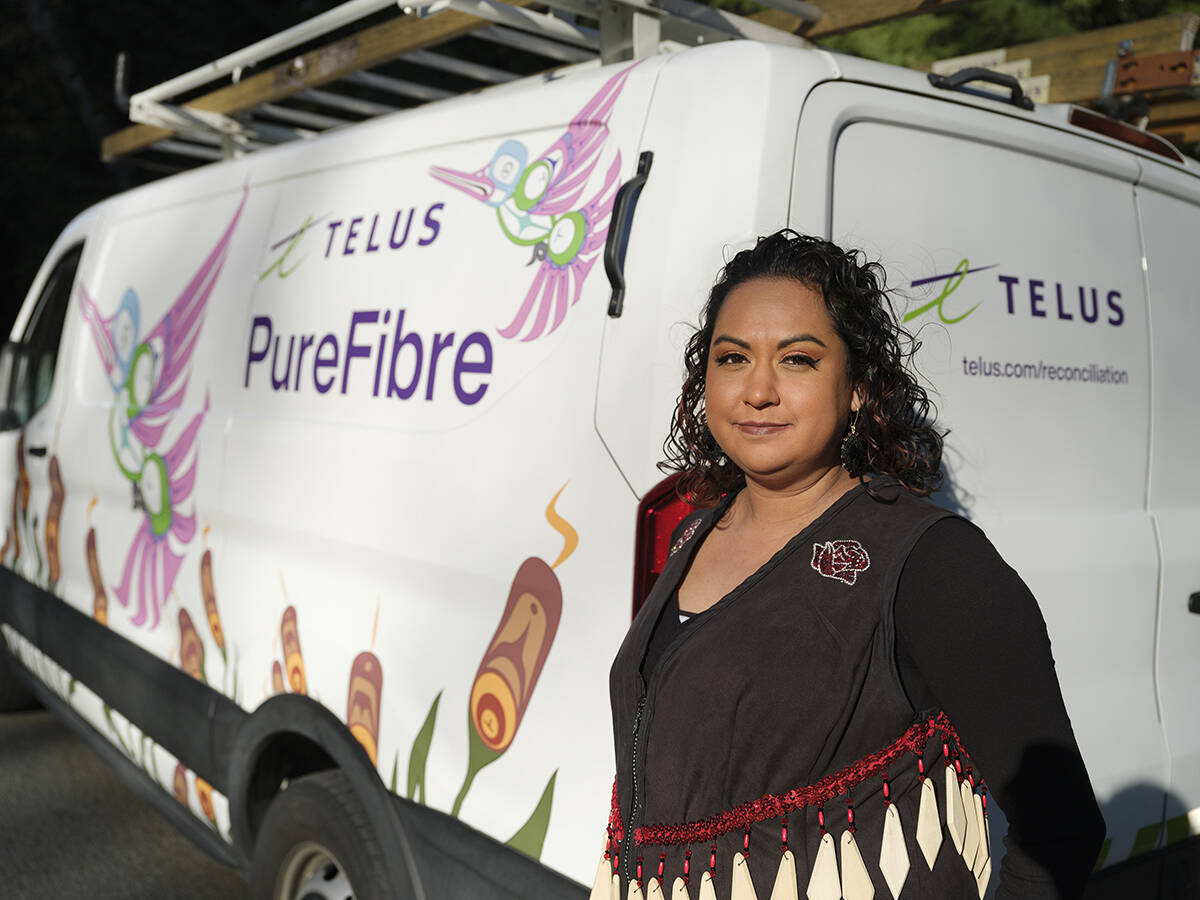 Xwei';ya | Deanna-Marie Point was bestowed with an early education in traditional art through her mother, Krista Point — a master weaver who has been weaving for over 38 years — and her father, Craig Antone — a Coast Salish carver who has been practicing his art for over 15 years. This set the foundation for Deanna to carry on her family traditions, as well as First Nations traditions, through her art practices as a member of xʷməθkʷəy̓əm (Musqueam Indian Band).
Deanna's creative work spans several mediums, and includes painting, drawing, mural work, logo work, glass etching, silver carving, jewelry engraving, beading, and cedar hat weaving. Currently, Deanna is working on her second mural.
The Musqueam people have a spiritual connection with animals and nature. For Spring Has Sprung, Deanna drew upon the symbolism of the frog and the hummingbird, as both are known as communicators and as indicators of the transition into new beginnings within her culture.
"Frogs are messengers that remind us winter is over, and that a new spring season is beginning," shares Deanna. "They live in the bulrush by our river bend, which is where the Musqueam people got the name ''people of the river grass' from. River grass is also known as bulrush or cattails, and our ancestors would weave mats, baskets, and fishing nets from it."
Through her design, Deanna hopes to showcase the connection between the Musqueam peoples and the land.
"Everything is connected, from animals to humans, in the way we communicate with each other," says Deanna.
Spring Has Sprung is showcased on seven vehicles that serve the Vancouver and North Vancouver areas.
TELUS is committed to supporting the artistic practices of Indigenous Peoples, acting upon their sense of obligation to ensure that the organization's use of Indigenous art is respectful of Indigenous artists. To guarantee this responsibility is met, TELUS works with each artist to ensure that they retain full intellectual property and control over their work. Visit telus.com for more information.