There's only one thing Jayden Lee was nervous about when he spoke of his upcoming 107-kilometre (km) fundraiser run from Chilliwack to BC Children's Hospital.
"Definitely running 107 kilometres," he said with a laugh, back in March of this year.
The 22-year-old Chilliwack Realtor has a personal connection to BC Children's – he was diagnosed with leukaemia at the age of 16, and the avid runner was treated at the Vancouver-based hospital for years.
"I actually found out I was sick from running," he said.
When he was in middle school, he could run 10 km without any problems, but once he was in high school and he was a few months into Grade 10, he started feeling out of shape when running. By December of 2014, he couldn't even run one lap around the track without feeling tired and light-headed.
His physical education teacher noticed it. His mom noticed it. And when he ended up fainting at a friend's house, that's when Lee admitted he needed help.
"That's when I realized I should probably go get checked out."
On Jan. 28, 2015, he went for a blood test after school, and later that evening Lee found out he had leukaemia. For the next three and a half years, he underwent chemotherapy.
After his treatment, at the age of 19, Lee got his Realtor's licence and picked up running again.
"After I stopped chemo, I wanted to get back into shape so I started running on and off over the last couple years," Lee said.
In the fall of 2020, he was chatting with his buddy and fellow Century 21 Creekside Realtor Cameron Van Klei, about how he could raise funds for BC Children's Hospital.
They joked that Lee should run from Chilliwack to the hospital in Vancouver, and that's how it all came about.
"Everyone has been affected by BC Children's in some way, so it's a cause that everyone can relate to and donate to," Lee said.
Cancer has hit Van Klei's family, too. His 35-year-old wife is currently going through treatment for breast cancer. She has a cancer gene called LFS (Li-Fraumeni Syndrome) which is a hereditary genetic condition.
"It's a nasty one," Van Klei said. "We're hoping our kids don't have it, and if they do, we will probably end up at Children's like everyone else."
That's one of the reasons Van Klei decided to "jump on board and go running" with his friend.
The distance to BC Children's Hospital is 107 km, which is about the length of two and a half marathons. Back in March, Lee said he had never run a marathon before (neither had Van Klei, although he signed up for one in May) so he admits he's "diving into it headfirst."
But thanks to the help of Lee's grandmother, Chris Race, who has run many marathons and even some ultra-marathons (which is a 100-km race), he and Van Klei have a training program in place leading up to the big day on Oct. 2.
They've been training under Race's 35-week program. They started off running three days a week which increased to four days a week. Each week includes one long run which increases in distance as the months go by. Near the end of training, the longest run they'll be doing is 60 km.
"We had a 70-km, but your grandma cut that," Van Klei said to Lee.
Lee figures it'll take them about 10 to 12 hours to complete the run.
"It's a little nerve wracking. I don't care about how long it takes me to get there, if I have to walk, I'll walk there. It's just a matter of getting from point A to point B," Lee said.
Recently, Lee said he was looking forward to Oct. 2.
"I am feeling ready. I ran 60 kilometres of our route to Langley a couple weekends ago and it went really well," he said on Sept. 22.
Now he's been doing smaller runs and resting up for the next week so he will be ready to go next weekend.
The two have set a goal of raising $121,000 dollars. They chose that number because of Century 21, the real estate agency they both work for, and are encouraging their fellow Realtors to donate $21 for every real estate transaction they make.
Currently they've raise more than $70,000.
"(We're) a couple of wing nuts that want to go for a run and make a difference," said Van Klei.
Lee and Van Klei's fundraiser run to BC Children's Hospital takes place on Saturday, Oct. 2 (originally the run was planned for Sept. 26). They will be leaving from the Century 21 Creekside office at 45428 Luckakuck Way at 12 a.m. and running throughout the day Saturday, hoping to reach the hospital by Saturday afternoon.
If people want to follow along virtually on the run day, they can check out Lee's instagram @jaydensrun.
To donate to the cause, go to gofundme.com/f/jaydens-run-to-bc-childrens-hospital.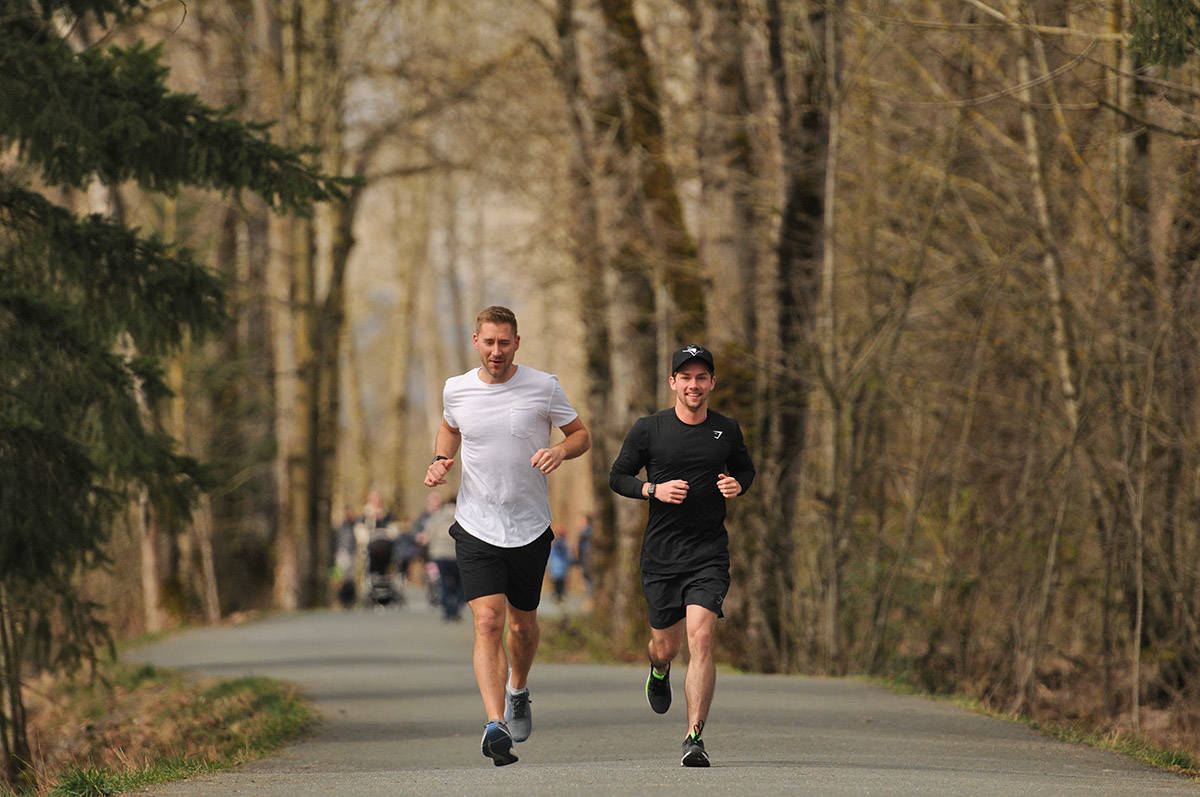 ---
Do you have something to add to this story, or something else we should report on?
Email: jenna.hauck@theprogress.com
Twitter: @PhotoJennalism