A Chilliwack equestrian society is celebrating 35 years with its annual three-day event on Labour Day weekend.
The Island 22 Horse Trials and B.C. Championships, hosted by Island 22 Equestrian Park Society, will be taking place Sept. 1-3, and just like its first event back in 1988, there will be dressage, cross-country and show jumping.
That event that kicked off 35 years ago saw more than 100 riders and their horses compete over the course of a weekend at the Island 22 Equestrian Park, and this year they are expecting more than 150 competitors.
The horse park began with a vision just a few years before that inaugural event in 1988.
It was the parents of the Mt. Cheam Pony Club who realized that their children needed a safe equestrian park to ride at so they approached the Horse Council BC with the idea. Then the parents went to the City of Chilliwack and, at the time Chilliwack Horse Council, for a potential plan to create such an equestrian park.
The current site on Cartmell Road, an 88-acre gravel pit overgrown in blackberries and cottonwood trees, was offered.
It was then that the Island 22 Equestrian Park Society was formed. Members saw potential at the site and went to work on getting grants to help put the project together.
It took two years to design the park setting and construct more than 100 permanent cross country fences from pre-training to preliminary. Shrubs from Minter Gardens were brought in and were paired up with each jump.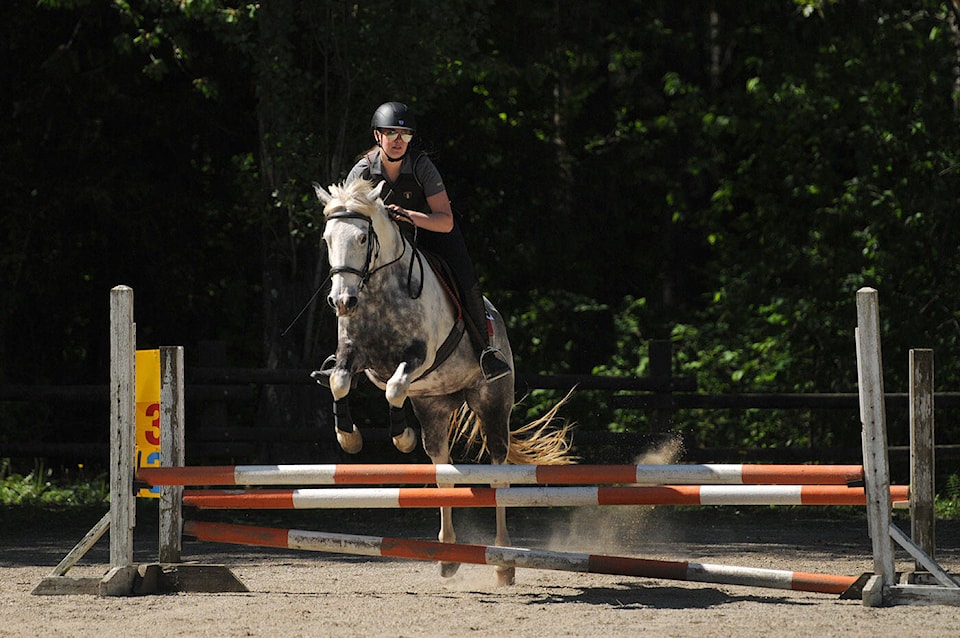 Initially, 80 paddocks were built at the very far west end of the park, but that land has since eroded away and 140 paddocks were rebuilt up at the front entrance of the park. The ground of the original big arena was hog fuel (an unprocessed coarse mixture of tree bark and wood fibre) and has since been upgraded to crusher dust.
Over the years, two more arenas have been put in, a second water complex was built, and the society's show office was constructed.
"A lot has happened over the past 35 years when the first event started in 1988 with pre-training to prelim. Now we offer starter- to entry-level cross country jumps as well at the park," said society president and event organizer Janice Spenst.
Over the Labour Day long weekend, dressage will be featured on Friday, Sept. 1, followed by cross-country jumping on Sept. 2, and show jumping will wrap up the weekend on Sept. 3.
Spenst said Saturday's cross country event is "the most exciting" day.
Back in 1988, event spokesperson Kerstin Schwichtenberg was quoted in a Sept. 7 Chilliwack Progress article explaining the three events.
Dressage is "a series of set patterns to be performed by the horse and the rider and judged according to accuracy and smoothness," she said.
"The second phase is cross-country. In this the horse and rider must jump over anywhere from 13 to 26 obstacles including water, logs and ditches within a specific time limit," Schwichtenberg said. "The last phase of the competition is show jumping which tests the horse's ability to stay sound after the difficult cross-country course."
The Island 22 Horse Trials and B.C. Championships are in Chilliwack Sept. 1-3 at the Island 22 Equestrian Park from 9 a.m. to 3 p.m. each day. There will be food trucks on site.
The event is free to watch, but pay parking is in effect at $5 per car.
For more info, go to island22horsepark.com.
READ MORE: PHOTOS: Equestrian event in Chilliwack draws riders from throughout Fraser Valley