A Chilliwack employer has been recognized for building an inclusive workplace and hiring people with developmental disabilities.
Keith Larsen, plant manager at Redux Nutrition in Chilliwack, is one of four recipients of the provincial Widening Our World (WOW) award handed out by Community Living B.C. (CLBC).
On Nov. 8, Redux Nutrition was shut down for the special event where Larsen was presented with the award. Head office staff and the company's owner were in attendance.
Larsen was nominated by Paul McCracken, employment developer with Chilliwack Society for Community Living which is an agency funded by CLBC that delivers employment services to adults with developmental disabilities.
"Keith has been an inclusive employer since moving into his current role in early 2021. He has hired three people supported by Chilliwack Society for Community Living, and he has given those hires the same opportunities for training and advancement," McCracken wrote in the nomination.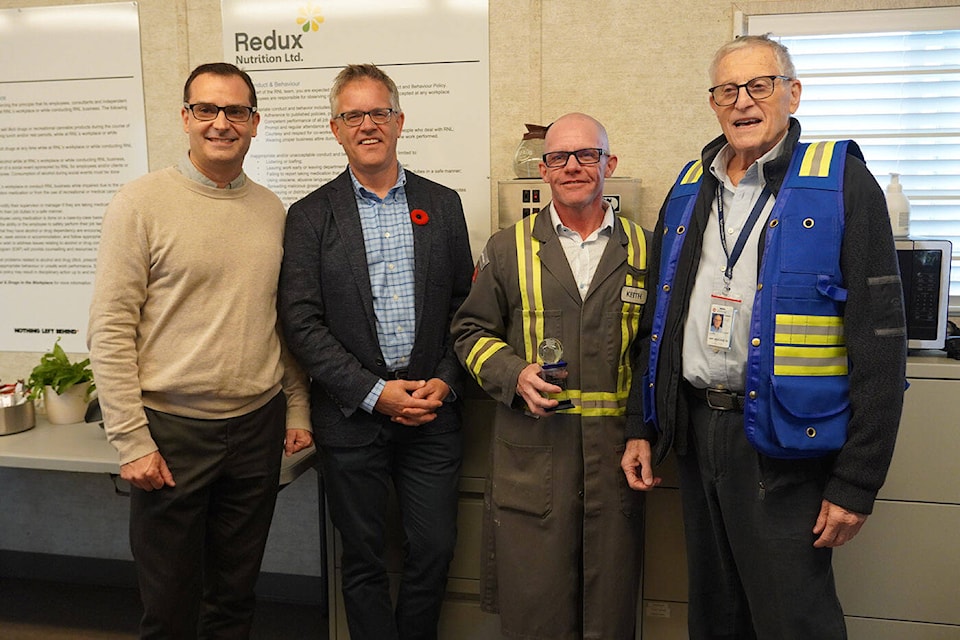 One of those employees is Gabe Proulx who receives services funded by CLBC. He's worked at Redux for three years. He started as a bin washer and is now a trained front-loader operator.
Proulux said he likes the people he works with at Redux.
"They try to help you out as much as they can," he said.
The current workforce at Redux features a diverse group from various cultural backgrounds, educations, disabilities, genders, and age groups, McCracken satated.
"Keith believes in having all his staff try new things and learn new skills for the betterment of the team and to provide opportunities for advancement," McCracken stated.
Redux Nutrition is a family company which started in 1964.
This year's WOW nominations focused on employers who are building inclusive workplaces as more of the people CLBC serves want to work. One of the goals of recognizing employers is to help build awareness of a largely untapped workforce (only 21 per cent of the people CLBC serves are currently working) and to profile through the sharing of stories the benefits of inclusive hiring, CLBC stated in a press release.
Employers in the Chilliwack area who are interested in learning more about inclusive hiring can talk to a local employment service provider like Chilliwack Society for Community Living, or look at web resources for employers like the Canadian Association for Supported Employment (CASE).
Community Living B.C. is a crown corporation that funds services for adults with developmental disabilities.